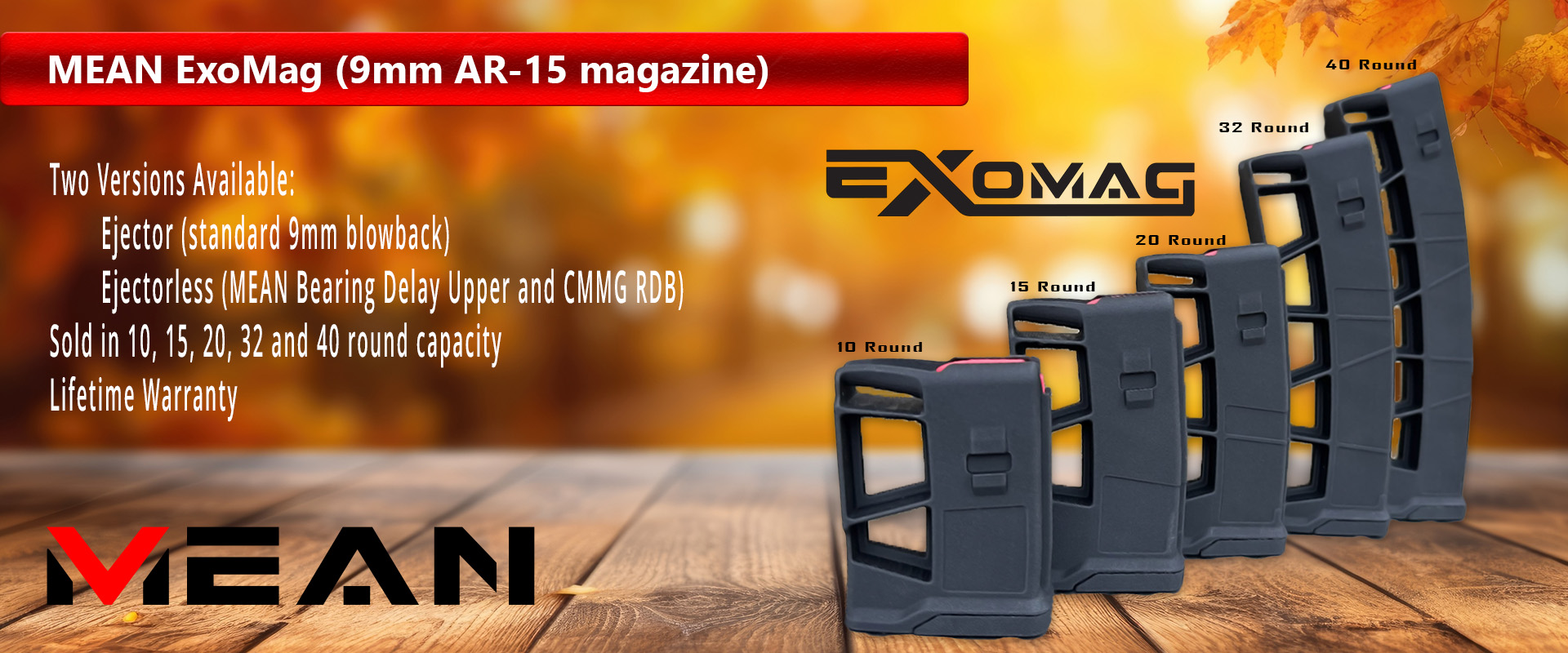 DESCRIPTION
PRE-ORDER - Items will ship late December/early January.
The MEAN ExoMag is designed to be the most reliable and best feeding 9mm magazine for use with a standard AR lower. The ExoMag has a STANAG magazine outer shape. Add the 9mm upper of your choosing to function with a Glock or Colt variant 9mm BCG. We offer both a version with an EJECTOR (for standard blowback bolts) and an EJECTORLESS version (for our Bearing Delay and CMMG Radial Delay systems). All ExoMag models include the last round bolt-hold open feature, as any AR-15 should.
International Sales: YES. MEAN sells direct to US customers only. For International customers, please check with Brownells to see if they carry our products in your country. For over 75 years, Brownells has been providing quality Gunsmithing tools, gun parts, and service to the firearms industry.
Bearing Delay Upper owners: Customers with the Bearing Delay system should select the "Ejectorless" option in the "ExoMag Package Selection" option above.
CMMG Radial Delay owners: If you have a CMMG Radial Delay firearm, select the "Ejectorless" option in the "ExoMag Package Selection" option above.
ExoMag features:
Facilitates quick and easy caliber change from .223/5.56 to 9mm
Functions as a magazine!
No magwell adapter needed!
Keep your standard 5.56 Multi Caliber lower receiver!
Comes fully assembled.
No tools required.
Build and maintain your muscle-memory for reloads and other training from your 5.56 firearms! Same STANAG magazine, same draw, same feel.
No learning curve when reloading because it is the same magazine you already use!
Use most of your STANAG mag accessories: i.e. mag pouches, storage racks, decals, caliber indicators, etc.
Not a picky eater. Shoots all 9mm ammo - hollow points included.
It is exclusively the customer's responsibility to be aware of all applicable laws and regulations regarding the purchase and ownership of magazines and the capacities thereof. Customers residing in states with intrusive laws who purchase standard capacity magazines may have their order canceled without warning.

WARNING: This product and handling firearms or firearms parts can expose you to chemicals known to the State of California to cause cancer and birth defects or other reproductive harm including lead, lead compounds, and petroleum products. For more information, go to www.P65Warnings.ca.gov.
For bulk or OEM orders, please contact sales@meanarms.com
Color choice: any color as long as it's black
SPECS
Key Functions
No modifications to your 5.56x45 lower receiver! Changing calibers is now simply a complete 9mm upper for your AR platform. No nuts, no bolts, no drilling, no bull.
Last round bolt-hold open feature, just as an AR-15 should function.
Built-in ejector designed to perform under intense conditions.
Specially formulated polymer.
Magazine is 4.64" tall.
This product carries a MEAN Lifetime Warranty! If you have an issue please contact our support department via email at support@meanarms.com. We are here to help!