MA Loader for AR-15
$29.99
MA LOADER Package Selection
DESCRIPTION
PLEASE NOTE: 3 Packs are currently backordered and will ship as soon as available.
NEW PRICE! NEW MSRP $34.99. $5.00 OFF FOR LIMITED TIME. NOW $29.99! Now Shipping.
Our MA Loader is a 10-round cartridge loading device that will allow you to safely and efficiently reload your fixed magazine without the need to break down the firearm. Simply place the MA Loader into your AR-15's ejection port and press the thumb ring slider to quickly load or reload. It is that simple!**
The best part is, using an MA Loader with a fixed magazine eliminates the requirement of registering your rifle with the state. If moving out of a restricted state is not in your plans, lawful gun owners can still enjoy the use of their AR-15s with minimal disruptions while fully complying with the laws.
An unintended consequence of the intrusive restricted state laws is safety. With absolutely no ability to load an unloaded AR-15 for home defense within a reasonable amount of time, gun owners will inevitably choose to keep them loaded at all times. This could potentially put the people we are committed to defend at risk. The use of a MA Loader prevents this problem and is the safest solution for all AR-15 owners anywhere. Once the MA Loader is mounted in the firearm's ejection port, it serves in a similar function as a Chamber Safety Plug. While properly attached, it visually provides an immediate, reliable confirmation of an unloaded chamber for safe handling. Or simply keep your AR-15 unloaded with an MA Loader close by. One push and you are loaded & ready!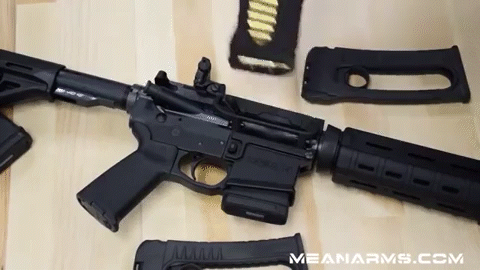 Multiple states continue to trample on the rights of law-abiding citizens. Use a MEAN engineered MA Loader to best use your firearms as intended.
Better, Safer, Faster

Note: No modification to your AR-15 is required to use our MA Loader! There continues to be some confusion floating around the internet about it being required to modify your rifle to use our MA Loader. Our MA Feed Ramp is optional and no modification is necessary! You do NOT need to purchase our MA Feed Ramp to use the MA Loader on your MIL Spec rifle or to modify your rifle in any way! The MA Feed Ramp is strictly OPTIONAL if you are looking to slightly improve your reload speed, but again, it is not necessary.
Note: Does NOT work with a left handed upper.
International Sales: YES. MEAN sells direct to US customers only. For International customers, please check with Brownells to see if they carry our products in your country. For over 75 years, Brownells has been providing quality Gunsmithing tools, gun parts, and service to the firearms industry.

WARNING: This product and handling firearms or firearms parts can expose you to chemicals known to the State of California to cause cancer and birth defects or other reproductive harm including lead, lead compounds, and petroleum products. For more information, go to www.P65Warnings.ca.gov.
SPECS
Model: AR-15

Fits: MIL-SPEC Receivers

Caliber: 223/5.56 NATO

Capacity: 10 Round

Finish: Black

Material: Polymer
This product carries a MEAN Lifetime Warranty! If you have an issue please contact our support department via email at support@meanarms.com. We are here to help!
NOTE: Patent Pending